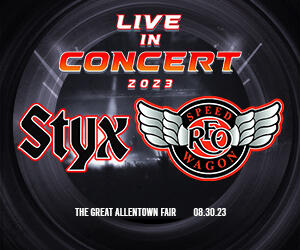 Classic rock powerhouses REO Speedwagon and Styx are kicking off the 2023 Great Allentown Fair on Wednesday, August 30th
Tickets for REO Speedwagon and Styx are $69 and $89.
Tickets go on sale to the public starting at 10 a.m. on Friday, February 3.
Tickets can be purchased online at Ticketmaster.com and the fair's Box Office. Special box office hours will be held Friday, February 3 from 10 a.m.-2 p.m.
All show tickets include admission into the Fair.